Winning The National Geographic Bee Takes 'Step-By-Step' Preparation, Says 2018 Champ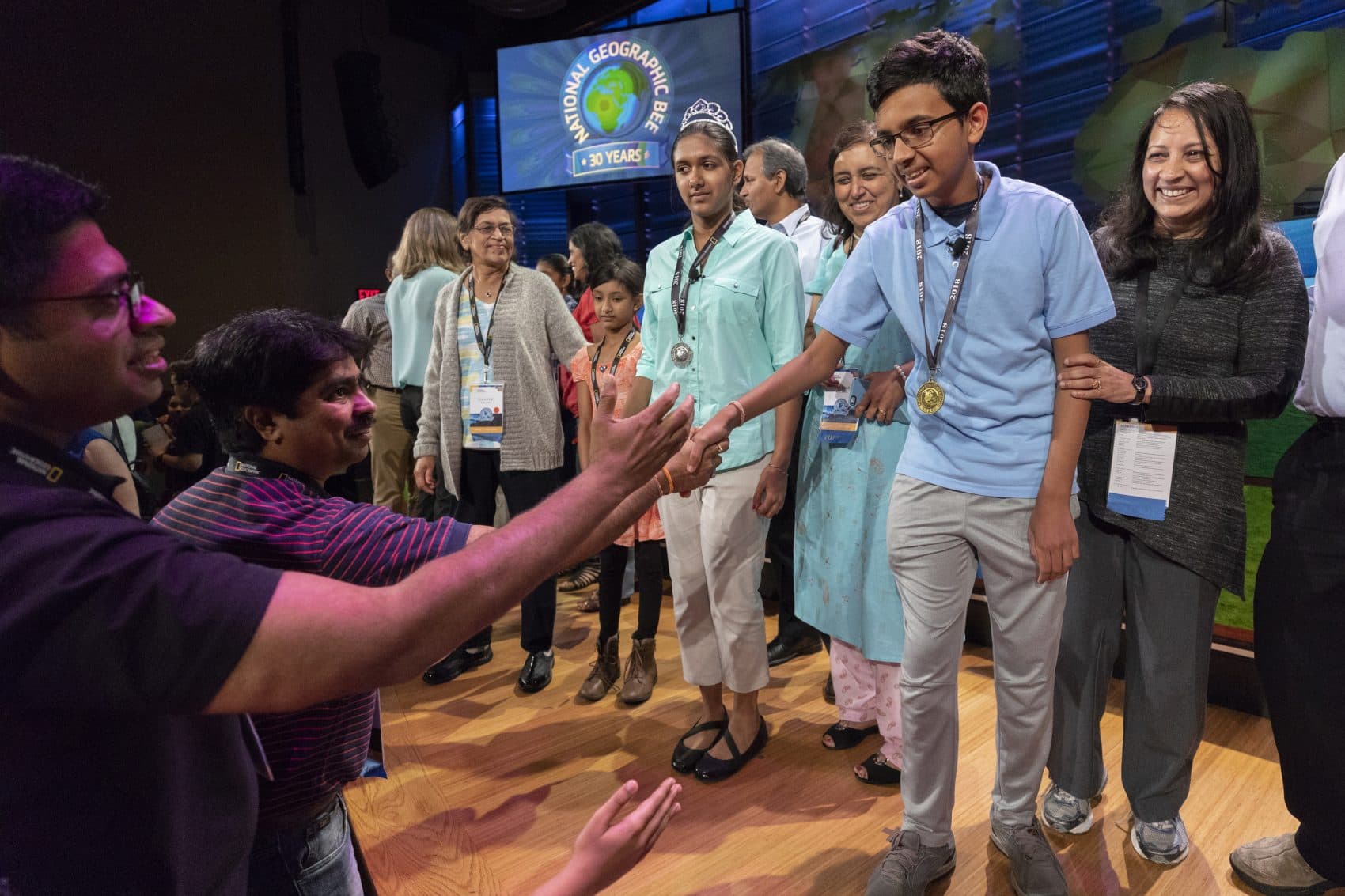 Venkat Ranjan, a 13-year-old eighth-grader from San Ramon, California, won the 2018 National Geographic Bee last month.
The final question in the final round: Lebanon has a population most similar to which South American country? Ranjan had the correct answer: Paraguay.
Here & Now's Jeremy Hobson talks with Ranjan about the competition and how he prepared for it.
Test your geography knowledge! National Geographic shares 10-question quizzes here. We asked Venkat Ranjan three practice questions on air — and he nailed them.
Interview Highlights
On how it felt to win
"It felt really good. It was mostly disbelief. I wasn't really thinking of winning or losing anything. So I was like, from the mentality at the beginning, which was I have a 10 percent chance of winning because there are 10 finalists.
"I thought that I could win, but I knew that everybody else was just as good as me."
On whether he was nervous as it came down to the final rounds
"Not really. I was just focusing on each question as it came. Most answers I was almost 100 percent sure. But then there are some that I wasn't completely sure. There was one question that I got wrong. There is — I forgot the name of the bird — but that bird spent summers in a national monument on the border of the United States in Mexico that was named after a cactus of the same name. And the answer was Organ Pipe Cactus."
On where his interest in geography began
"I think it was like when I was really, really young. My parents bought me this globe, talking globe, and you can press buttons on it, and it would tell you facts about countries or places. I think official language, population, things like that."
"I thought that I could win, but I knew that everybody else was just as good as me."

Venkat Ranjan
On how he prepared for the bee
"A few years ago I started just by gathering general knowledge. But now I do a little more organized study. I make a map of a country and write down a bunch of facts about the country on the side of the map. And then a few weeks later or a few months later, I'll revise that country and everything. I also put a bunch of information in Excel spreadsheets, and then quiz myself from that, or ask my mom to quiz me from that."
On advice for someone who wants to compete in a geography bee
"You have to take preparing step by step. You can't just say, 'I'm going to win nationals,' because then you'll have too much on your plate and you won't know how to organize anything. First you say, 'I have to win the school bee by doing this,' and then you do those things. Then, 'I'll get into state, or win the state bee, by doing these things.' And then … just go step by step."
Source:: http://www.wbur.org/hereandnow/2018/06/04/national-geographic-bee-winner-venkat-ranjan?utm_medium=RSS&utm_campaign=storiesfromnpr